St. Joseph's Preparatory Seminary Alumni Home Page (EASTER 2007)
We are currently trying to re-do our web page. We are looking for a few volunteers or a committee to work on the design and upkeep. Please contact Marty Howfield at sjpsalum2007@yahoo.com if you are interested.


This is a web site for the St. Joe's Alumni Association. It will give us an opportunity to share information, pictures, stories, and other details about our lives both PAST and PRESENT. I hope that many of you will share what's happening in your lives. We informally started back at the 25th anniversary of Fr. Kramer's priestly ordination and have been keeping it together in different ways ever since. I believe Father Kramer celebrates 50 years in 2007. Congratulations Father Kramer!
ALUMNI REUNION October 27, 2007--Sign Up NOW! Contact Marty Howfield at sjpsalum2007@yahoo.com
On October 27, 2007 we will be gathering at St. Joe's for a good old-fashioned ALUMNI REUNION. We will be celebrating along with other men and their families who have shared time in formation. Activities will include liturgy in the Miraculous Medal Chapel at and an evening of food and fun right in the student dining room at St. Joe's. All alumni and families are invited. Make plans now to be with us for this special ocassion. E-mail Marty Howfield for information:

sjpsalum2007@yahoo.com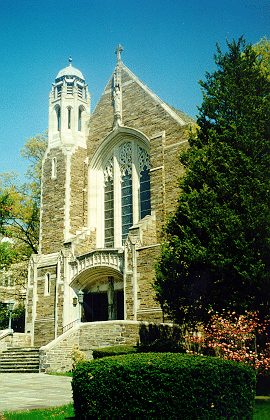 We are always looking for stories and pictures from you. Please e-mail Marty Howfield at mhowfiel@optonline.net if interested in submitting a story or news or pictures.
Chapel of the Miraculous Medal
St. Joe's 90th Anniversary - ALUMNI REUNION--April 17, 2004....Contact Marty now...mhowfiel@optonline.net