OUR MISSIONS
The St. Joseph's Alumni Association has adopted the following Vincentian works. Anybody who wishes may send donations directly to the Vincentians listed below:
The primary goal of the Association has been to share memories of the "good old days" with each other and with our families. We feel that our committment to ongoing support of Vicentian works will give us an additional bond and long range goal.
Our Lady of the Valley Catholic Church

Send your contribution to:


Father John Lawlor, CM
Our Lady of the Valley Catholic Church
2429 Augusta Road
P.O. Box 419
Gloverville, SC 29828
(803) 593-2241

"THE BROWN BAG PROJECT"

Three of us run "Brown Bag" programs that feed the elderly poor once a month. Each member costs us about 5.50 a month. We all have major housing issues with our poor and pour Mexicans. We have Mexicans who speak no English and have little contact with local American families. The situation of elderly African Americans throughout our counties is difficult.
-Bob Stone, CM

Rev. Martin F. McGeough, CM
Holy Family Church
304 4th St.
Lanett, AL 36863

Rev. Bruce Krause, CM
St. Mark's Catholic Church
460 Country Club Rd.
Ashland, AL

Rev. Robert J. Stone, CM
St. John the Apostle Catholic Church
454 N. Central Ave.
Alexander City, AL 35010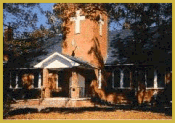 Addresses For BROWN BAG PROJECT:
Reverend John Lawlor, CM
Reverend Robert Stone, CM