Some of Our Favorite Links:
Please feel free to use these links and submit your comments to us. We hope that you will also share with us your favorite family, fun, educational, or religious links.
Many of the following links are common search engines and very useful utilties. They are followed by educational links and links to the extended family of St. Vincent de Paul and the Congregation of the Mission.
WEB SITES OF INTEREST TO ALUMNI AND THEIR FAMILIES
This is a wonderfully rich web site with all kinds of specific and general information about the works of the priests and brothers of the Eastern Province of the United States. Here you can find the current assignment of any CM, as well as birthdays and other helpful information.
This is a good starting point for information on the Vocation Ministry of the Eastern Province of the Congregation of the Mission.
With over half a million sites divided into more than 25,000 categories, Yahoo! is both browseable and searchable.
FREE Web Space for All!
This is a direct link to the Association of the Miraculous Medal.
This a very fine site run by Fr. John Freund, CM out of St.John's University. It has many additional links to the extended family of St. Vincent de Paul.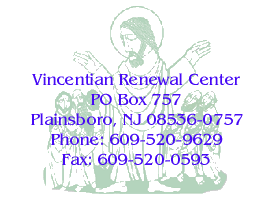 Fr. Karl Lindblad (Class of '77) is the Roman Catholic Chaplain here. Fr. Lindblad recently appeared on ABC News commenting on the death of Cardinal O'Connor who ordained Karl.
This is the web site for the Vincentian Renewal Center at St. Joe's. Fr. Joe Morris, CM and Sister Mary Francis are currently assigned to the Center. Please visit and enjoy their page.
Be sure to place a description of your link for your viewers here!
Welcome to Dan's world. Some short biographical and professional info.